Samuel is a wonderful young boy who has Down's Syndrome and small airways disease. This means he is on oxygen 24 hours a day.
Samuel can walk but the weight of the oxygen cylinder is too much for him, meaning his mobility has, sadly, always been restricted.
That was until our Innovation Centre stepped in to help!
We are in regular contact with families from across the country who reach out to us. We listen to the challenges their children face every single day and come up with innovative ways to not only help practically, but to give these children confidence, independence and most of all, joy.
Samuel's mum, Joceline, is a member of a parent group on Facebook and had seen how another child benefited from our 'Oxy-gem' – a device that enables children to independently transport their own oxygen cylinder, ventilator or food pump. Joceline then reached out to us and we were happy to help!
We got to know a little bit more about Samuel's size and mobility and were soon able to send him his very own Oxy-gem to take for a test drive!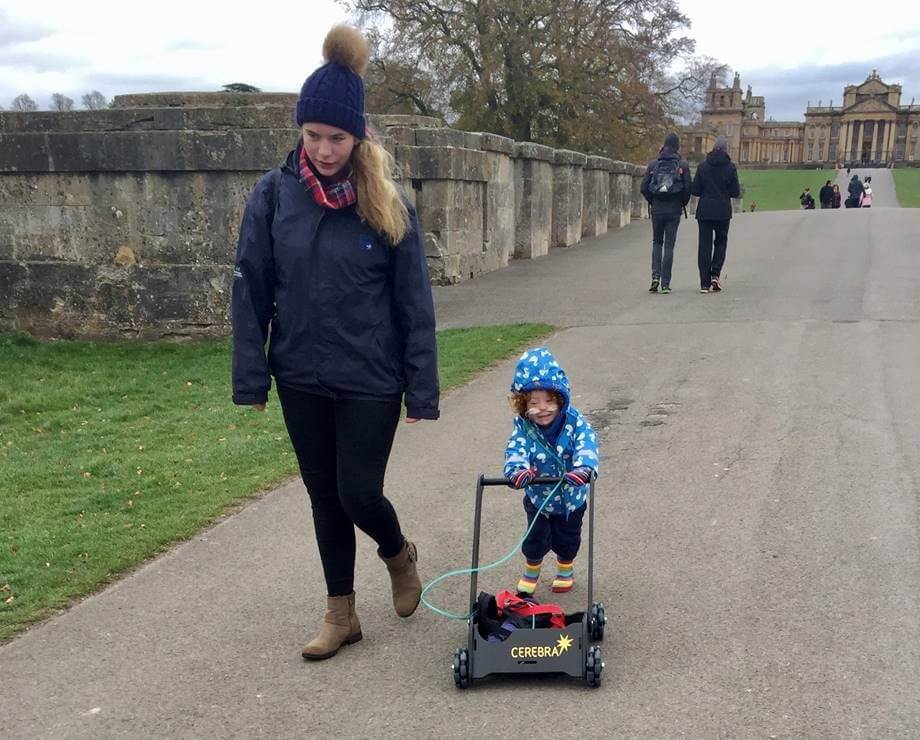 "It was the first time he's been able to move around on foot and you could see the excitement in his face… it was a life-liberating day."
Joceline was so pleased with what she saw and so happy that Samuel could finally enjoy being outside without being restricted to his buggy. The Oxy-gem was the perfect solution for Samuel and it's given him so much more freedom. It's helped to break down a barrier, which is what's so wonderful about the Cerebra Innovation Centre.
We're delighted to have helped Samuel but there are still so many children across the country living with a brain condition that prevents them from doing the things they love. If you're able to support our work this Christmas, please make a donation below.