Light Up a Child's Life This Christmas
Our Toy Library brings joy and happiness to children living with a brain condition all year round. But at Christmas time, there's something extra special about a child's excitement when their parents tell them to expect a delivery of toys!
Fibre optics, UV lights, sound and tactile items are all available to children completely free-of-charge and if you'd like to find out just how important they are to children with sensory needs, you can read some of the wonderful stories below. They really do help to light up children's lives.
There's lots of exciting ways to get involved and if you're able to support our Christmas campaign in just one of these ways, you'll be putting a huge smile on a child's face. We hope you enjoy reading up on some of the amazing children we've been able to support through our Toy Library and hope you can help us spread some more festive joy this Christmas.
Give a Gift This Christmas
A donation of just £20 could buy a toy in our Sensory Suitcase – our most popular loan, full of sensory equipment, including UV lights, sound and tactile items to help children learn and play.
David is almost two-years-old and is a happy little boy who loves books, toy trains and going on the swings
David suffered from lack of oxygen to the brain at birth and he needs some help with mobility, communication, eating and drinking.
His mum, Lauren found out that Cerebra could help to overcome some of the challenges they faced and help the whole family to enjoy life better together. Lauren explains;
"After trying sleep training with David at around 9 months, his sleep started to deteriorate at around 14 months, where he would wake multiple times each night and we could not figure out what the issue was. I was finding it especially hard as the disruption was affecting me at work and we got to a point where we all were suffering from a lack of consolidated sleep. I heard about Cerebra on a forum for parents of children with HIE and was quickly put in touch with a sleep specialist after making contact.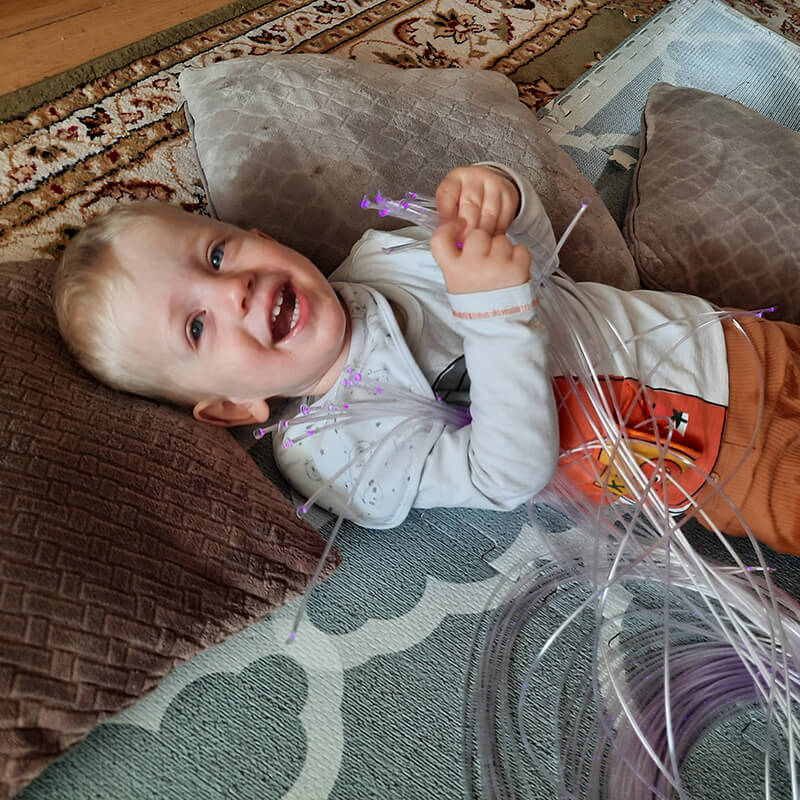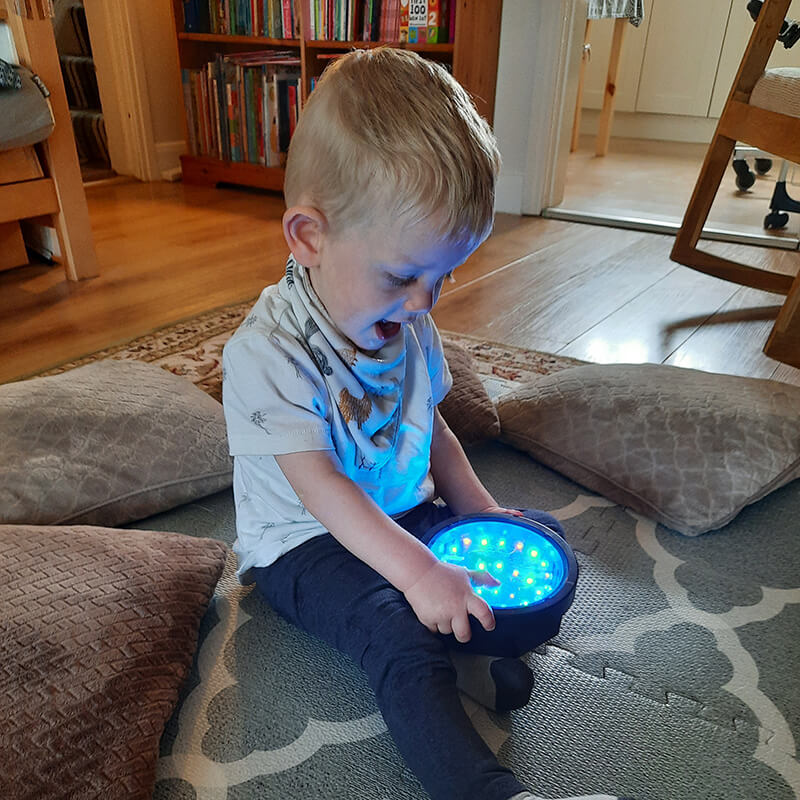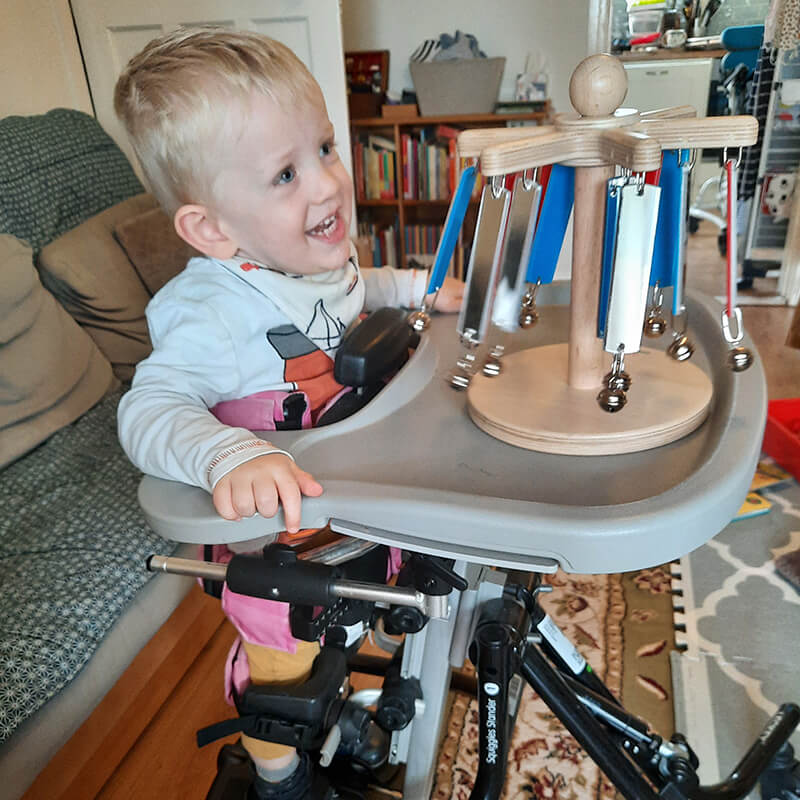 "We then found out about Cerebra's Toy and Book Library, where we have been able to learn more about supporting David and also recently enjoyed the loan of a Sensory Suitcase, full of lovely toys to help engage and inspire David during his playtime and physiotherapy sessions.
The Toy and Book Library has been brilliant as there are a lot of unanticipated costs as part of being a parent of a child with a disability, so it's been great to be able to borrow toys for David to enjoy and specialist books for us to better understand his condition."
Mum, Sarah explains how our Toy Library has helped Betsy to have fun and variety in her life
"Betsy has Rett Syndrome and Autism. Her needs are very high and she is very sensory driven requiring constant sensory feedback. Our family life is impacted hugely as Betsy requires supervision 24hrs a day. Outings are a struggle and so we rely heavily on having the right environment at home to keep Betsy stimulated, calm and happy.
Betsy has stereotypical hand movements and that makes it difficult to keep her occupied. Often things we think she may like she doesn't and so being able to borrow different items from Cerebra's Toy Library gives her the opportunity to try out a good variety of wonderful sensory equipment that we would otherwise be unable to provide.
The free loan of equipment has given us the opportunity to provide Betsy with variety and fun in her life and we have been able to make her smile with items we could not normally buy. She has loved the numerous things we have loaned and seeing her face light up or the concentration when she sees a new object is absolutely lovely.
Knowing I can contact Cerebra and always receive a supportive quick reply is so refreshing as a special needs parent!"
Helping Jude to relax and calm down at night
Jude is 7 and he has Asperger's and Tourette's. His mum, Philippa was recommended the Toy Library and she tells us why;
"Jude often struggled to relax and calm down especially at night. We regularly borrow the Sensory Suitcase, which is full of wonderful toys and equipment and it's been a real help.
Jude's tics from his Tourette's are very painful and he has lots of different ones, but the worst are his head throws and feet and toe tics. We use the different stimulating balls to roll up his legs and back whilst we have the projector and other lights on. To borrow this is such a treat for Jude and he so looks forward to his suitcase coming. His face lights up when I have set it all up for him.
We are so grateful to Cerebra that we are able to borrow these items and they really benefit Jude."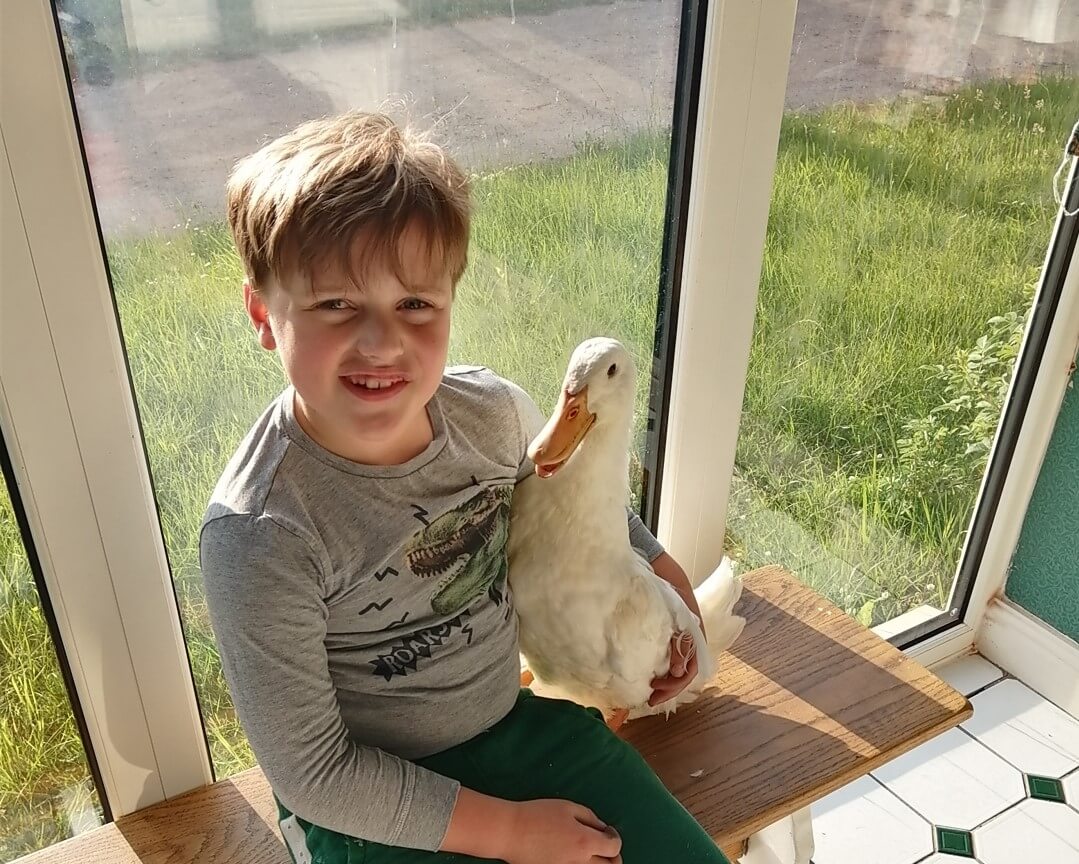 If you would like to light up more children's lives please make a donation today