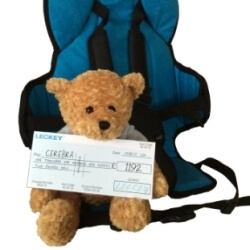 Sales of the brilliant GoTo seat are raising money for Cerebra.
We have kept you up to date with the development of one of our Innovation Centre's design exploits – the joint venture between Leckey and ourselves to develop the Goto Seat.
Because the original design idea was ours we have a contract with Leckey called a Licensing Agreement. This means that every time they sell a Goto Seat they pay Cerebra a royalty fee to support the work we do and enable us to help more children and to develop even more innovative products.
The first quarterly sales figures are in and Cerebra have received £1192 in royalties! We are delighted and would like to thank everyone at Leckey for all their hard work developing our idea into such a successful product.
Sales of the the GoTo seat have continued to grow with the launch of the new size 2 seat which is suitable for children between 2 and 5 years of age. It offers an adjustable headrest, extended leg supports and a stronger backrest making it supportive enough for mild to moderate postural needs.
Cerebra Ambassador Chris Bennett and his son Elliott have been using the GoTo seat at dinner time instead of a high chair and told us "It's brilliant – it makes dinner time more of a family thing as he's closer to us and can eat from the table".
We look forward to designing more products to add to the list and will keep you informed of all of our future developments!