All the support we offer is research-driven and evidence-based. From advice on legal, financial and social affairs to support with physical and mental health issues, our work is driven by listening to what you need.
Children with brain conditions often also have complex physical needs. From issues with sleep and toilet training to learning how to manage pain and challenging behaviour, our wide-ranging support identifies and helps you with these problems.
Legal, Social and Financial
Dealing with statutory bodies and thinking about legal and financial affairs can be overwhelming, especially if you already care for a child with a brain condition. We can help you with the complex decisions and difficult tasks involved.
Our Sleep booklet introduces and explains different techniques for you to try that may improve your child's sleep. It covers ten main topics including bedtime routines, daytime napping, comfort objects and and moving bedtime backwards or forwards. It gives lots of illustrated hints and tips for putting the techniques into practice.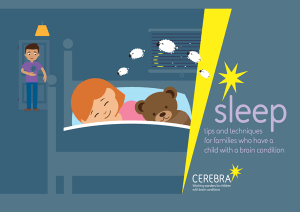 We offer a range of free services that enrich the lives of children with brain conditions and support their families and carers.
Please help support our vital work that enriches the lives of thousands of children and their families every day. Taking part in our 'Count Me In' Lottery is a wonderful way to make a real difference to children with brain conditions and their families. It also means you are in with a chance to win our big weekly prize.