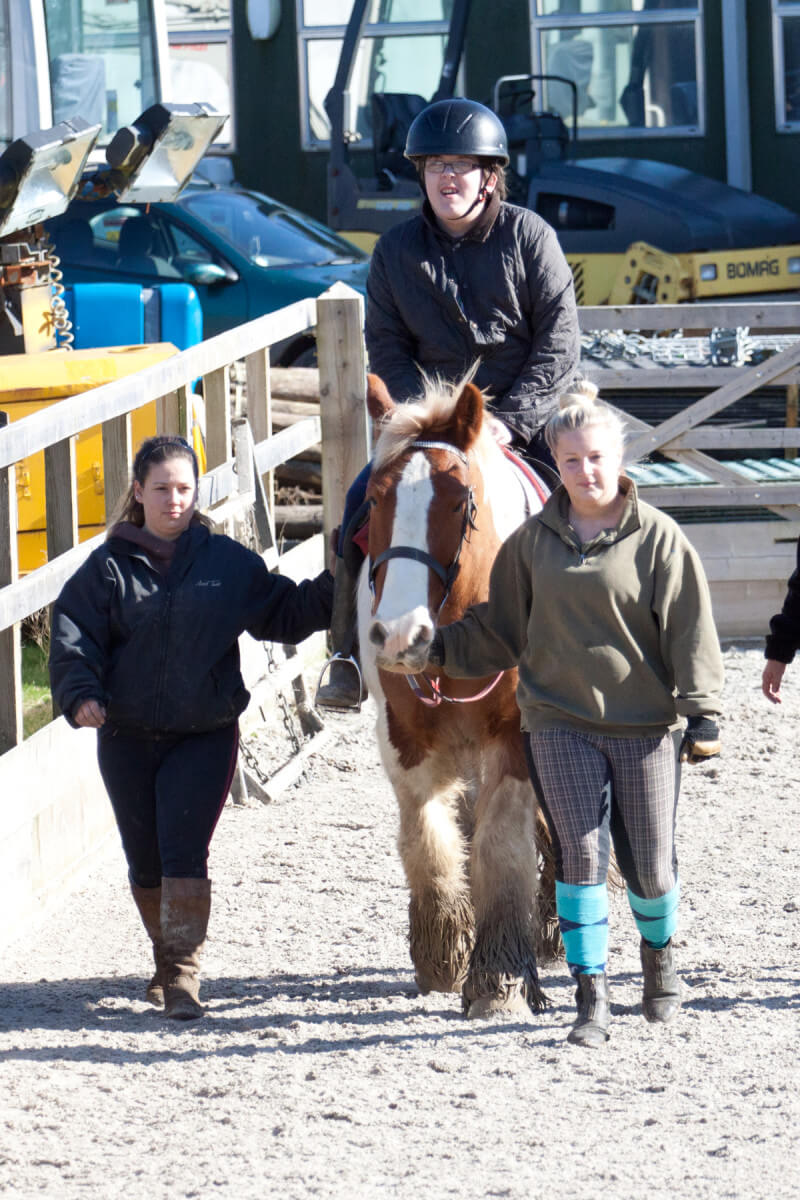 The Cerebra Innovation Centre (CIC), along with the help of BSI (British Standards Institution) have taken the challenge to help a young boy with autism and a unique head shape to fulfil one of his dreams.
16 year-old Tommy-Lee from Brighton wanted to go horse riding with his friends but his unique head shape prevented him from wearing a riding helmet. Without a riding helmet he was not allowed to participate for safety reasons.
CIC's mission is to design and develop products that will allow children to be included in activities and daily living. They focus on careful attention to the aesthetics of the product to ensure that the child not only fits in, but in some cases becomes the object of envy of the playground.
In conjunction with the MSc Industrial Design course at UWTSD, Swansea, the CIC team used high tech equipment to develop a bespoke riding helmet for Tommy Lee.  Dr Ross Head, Product Design Manager at CIC said:
"We knew that the basic principle of a helmet is quite simple but the journey to get to a safe and useable helmet was quite complex. The basic method has been to use a 3D digital scanner to scan in Tommy Lee's head shape, the software helps to stitch the head form together so a perfectly accurate model is achieved. Then we used this data in our computer aided design software to draw the head shape. The helmet was styled around this shape, and then the cavity was removed leaving the exact shape for Tommy Lee's head. This model was sent to a manufacturer to machine the exact shapes from the correct density of expanded polystyrene.
"Upon hearing of the project and the likely cost which would have prohibited us from continuing, a very kind gentleman, Mr Gordon Coventry from a charity called Claire's Project, offered to help fund the cost of the helmet with a generous donation of £2200."
Gordon Coventry explained why he was moved to donate to this project: "Watching Sophie Christiansen take part in the 2012 Paralympics dressage competition was inspiring. Her face when she claimed gold was pure happiness. There was a similar look on the face of the young boy on the surfboard recently designed by CIC. I was happy to support Cerebra to enable other children to take part in activities and sport they haven't previously been able to access".
CIC approached the British Standards Institution (BSI) for a quote for testing the helmet to ensure it meets the same standard that a regular helmet would be subjected to. BSI kindly agreed to fund the entire cost of the testing by way of support to get Tommy Lee horse riding and tested the helmet against the BSI Kitemark™ scheme.
Maureen Sumner Smith, Managing Director UK & Ireland, BSI said: "We're delighted to have been able to support this really worthwhile cause through our testing services. It's been very rewarding  to work alongside CIC to help develop this bespoke riding helmet for Tommy and we're sure that he will now get to enjoy many hours of horse riding from this."
CIC created six helmets in total. Five of them were sent to the BSI headquarters for testing and the remaining one was finished to a beautiful standard so that, with the exception of its size, it would be indistinguishable from another riding helmet.
The team from CIC delivered the helmet to Tommy-Lee on 25th February and he couldn't wait to put it into action. Sue Boyce of the Three Greys Riding School, Brighton, where Tommy Lee will be going horse riding said "I am very pleased that Tommy Lee will finally be able to go horse riding with his class mates, which is something he has been looking forward to for almost a year. I am sure he will love it. It is so lovely to hear that so many people have made so much effort to make this happen. We are really looking forward to it."
Tim Schvetz, Tommy Lee's teacher at The Cedar Centre in Brighton said, "I am absolutely thrilled that Tommy Lee is finally getting the opportunity to ride as a result of this project. He has been so keen to get on a horse and this is his chance. This will vitalise his independence. We are all so grateful to Ross and the team for their persistent hard work to get the helmet finished".
You can watch a report on this story which was featured on ITV Wales.
Thank you to Terry Applin for allowing us to use the lovely photos below: