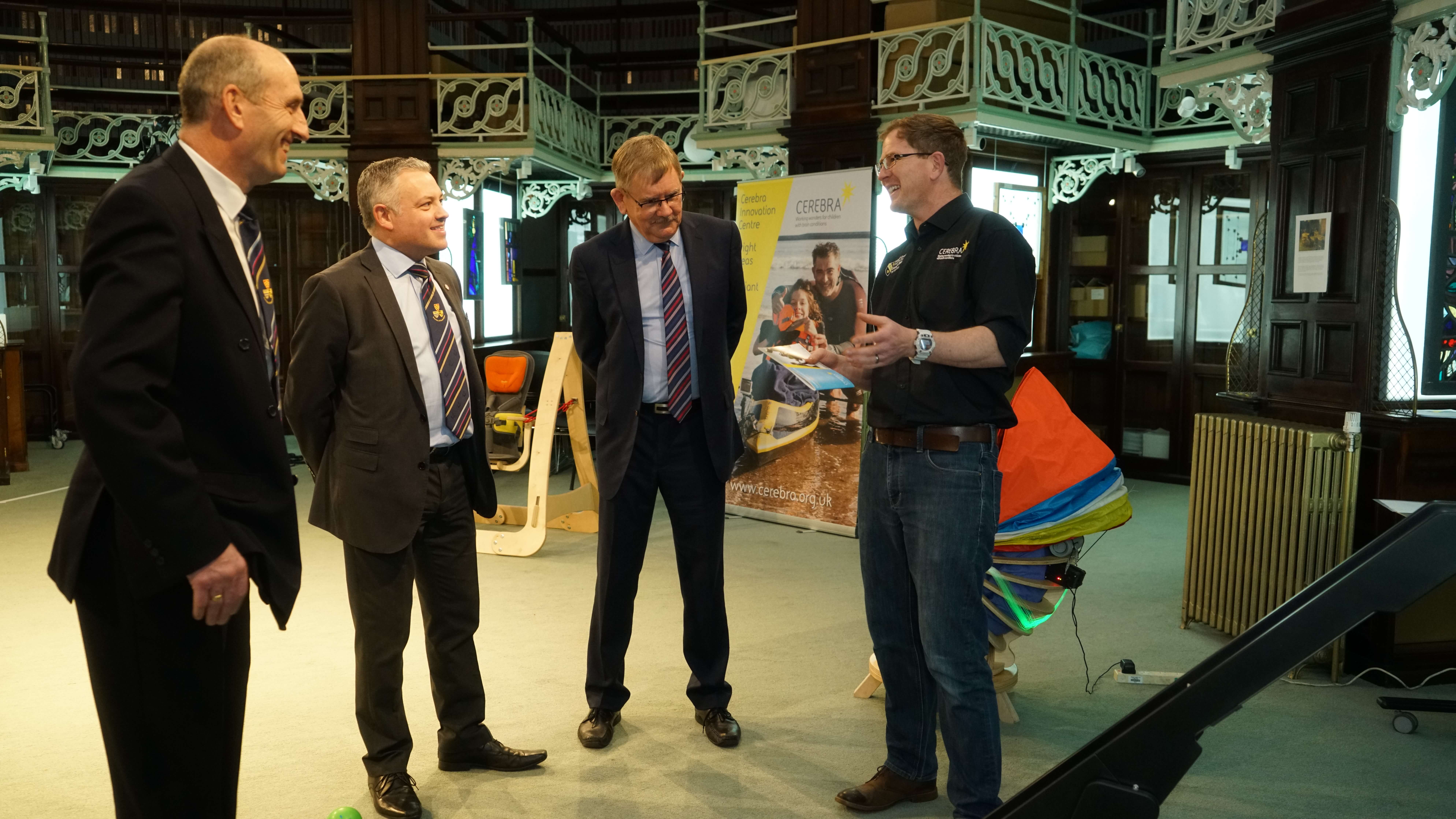 Our Innovation Centre and the work they do to help children take part in and enjoy life alongside their friends has been given a boost, thanks to a generous donation of £38,749 by South Wales Freemasons.
One of the many ways we support children with brain conditions and their families is through our (CIC). At the CIC, a small team of innovators design and build bespoke products to help children overcome the challenges they inevitably face when taking part in activities that non-disabled children may take for granted.
The generous grant will contribute significantly to the salary costs for the Centre's talented design team for one year, ensuring that the Centre can continue to make a difference to the lives of children across south Wales, and beyond.
Representatives from the South Wales Province visited the Cerebra Innovation Centre on Monday 28th January 2019 to learn more about the Centre's innovative work and some of the children who will directly benefit from their support.
One of the children they met was two year old Amelie from Swansea who has quadriplegic cerebral palsy. Before Christmas the team made a Bouncer for Amelie which has made a huge difference to her daily life.  The Bouncer allows Amelie to move independently, something that she would otherwise be unable to do. She loves the swinging sensation and can enjoy this while the seating gives her all the postural support she needs. Mum Lucy explained that Amelie loves her Bouncer as it allows her to move on her own and have fun. The Bouncer also strengthens Amelie's legs and core muscles so it's great exercise for her too.
Ten year old Bailey is also from Swansea and has been enjoying the Spinning Pod that the Innovation Centre designed and made for him. Bailey has a life threatening brain condition, is blind and autistic. Bailey has a great love of music and really enjoys bouncing and spinning – so the new chair is perfect for him. In the chair Bailey feels safe and cocooned and can spin it himself which is great for his independence and also for him to self-soothe when he feels frustrated. His mum Charlie explained that that the chair is his new safe place and he spends a lot of time in it playing the piano and with his toys. She added that it's 'Bailey proof' – very sturdy and unbreakable!
Staff and pupils from Ysgol Crug Las, a special needs school in Swansea taking pupils from ages 3 – 19, also attended the event.  Head teacher Clare Hobson explained that the school has a close and long standing relationship with the Innovation Centre.
Terry Osborn, Cerebra's Head of Income Generation, said "We're very grateful to South Wales Freemasons for their generous grant, which will allow us to help hundreds of young people with cerebral palsy, autism and similar conditions to enjoy everyday life in the same way as everyone else."
Rob Payne from South Wales Freemasons, said:
"I'm delighted we're able to support Cerebra, who do outstanding work helping some of the most vulnerable people in our community to have access to the same opportunities and lifestyle as the rest of us."
You can find out more about the Cerebra Innovation Centre and view their whole product portfolio here.
CIC is a partnership project with the University of Wales Trinity Saint David and is based within its Swansea College of Art.