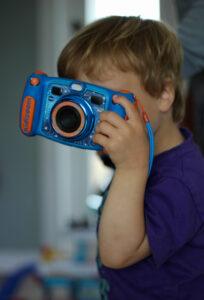 Mum Amanda explains how our Innovation Centre were able to cleverly adapt a camera so that her son could enjoy taking snaps alongside his sister.
"Our son Archer is a happy boy, he loves playing with cars, building sandcastles, collecting rocks at the beach and Maui from the movie Moana! Archer has a right hemiplegia, caused by his severe epilepsy and made worse by his recent neuro surgery where he had a left hemispherotomy to completely disconnect the left side of his brain in an effort to control seizures. He has no function (yet) in his right hand and wrist which can make it difficult for him to use some toys.
Archer has shown a real interest in photography – I'm a photographer myself and he's constantly interested in my cameras. For his 3rd birthday we bought him and his twin sister VTech Kiddi Zoom cameras but the shutter button was on the right hand side which meant he was unable to use it as he has no function (yet!) in his right hand and wrist.
We got in touch with the Innovation Centre to see if they could suggest any adaptations that would help. They were so helpful. They asked us to send Archer's camera in asap so that they could look at it and hopefully find a solution quickly in time for Archers birthday. And they did! As there was another button at the left hand side to turn the camera around for selfies, the team switched the buttons over so that Archer could use it left-handed. The team also turned the job around really quickly so that Archer received the camera in time for his birthday.
We'd just like to thank you, so much, for your help with this. He loved his camera and snapped away on it all day at the safari park. Without your help adapting Archers camera he simply wouldn't have been able to use it and that would have been such a shame. We truly appreciate it".
Is there something we can help your child with? Our innovative team would love to hear from you – no challenge is too big or too small. Find out more and get in touch here.