The Wizzybug is an innovative powered wheelchair modelled on the 'Little Tikes' car, aimed at younger children with limited mobility up to 20kg. Designability is a charity that enables disabled people to live with greater independence, much like the aims of Cerebra. They have designed and made numerous pieces of equipment, in response to the needs of disabled people, including the Wizzybug.
The Wizzybug is a clever and fun piece of mobility equipment that allows children to move and explore independently, without the feel of a 'normal' wheelchair.
Wizzybugs can be used both indoors and outdoors, and is easily transportable. It has both parent and user controls, which makes it extra user friendly and enables both safe and independent movement for children with physical disabilities. Whilst the Wizzybug can prepare the child for wheelchair use in the future, it won't prevent them from learning to walk if they are able to do so.
The best part is that Designability offer a Wizzybug Loan Scheme, which provides families with a Wizzybug free of charge for as long as they need it. They offer a free initial suitability assessment and ongoing advice and support from Occupational Therapists to ensure that the child is getting the most out of their Wizzybug.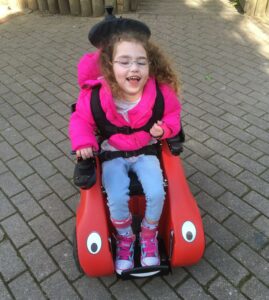 Many of CL Medilaw clients have used a Wizzybug, including Jessica, whose family believe that it was of great benefit to her:
"Our Wizzybug was a fantastic part of Jessica's story. She loved it, even when we had the controls. As parents, it was the first time we had seen her be able to move independently, and there were lots of happy tears when she went forwards for the first time! She laughed so much.  She also loved being centre of attention at school on the playground in Wizzy and she was able to take part fully in sports day by racing her friends who were on step trikes!"
To try out the Wizzybug first hand, you can visit them at the Kidz to Adultz Exhibition on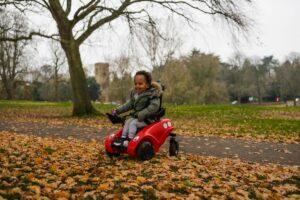 Tuesday 16 May 2023 at Farnborough International Exhibition & Conference Centre, where CL Medilaw will also have stand. The event is organised by Disabled Living, which is a free exhibition dedicated to children and young adults with disabilities and additional needs, along with their families and carers. There will be various stands, offering the latest information and products relating to mobility, seating, communication, transport, sensory, education and employment, and much more. There will be opportunities to try out different equipment, attend a range of disability related seminars, and to speak to various professionals and charities that may be able to support your child in some way.
To find out more about the Wizzybug scheme, see https://clmedilaw.co.uk/wizzybug/
For more information about the Kidz to Adultz exhibition, please visit the website https://www.kidzexhibitions.co.uk/kidz-south/
CL Medilaw work closely with many families with children who have an acquired brain injury or brain condition arising out of medical negligence or personal injury. They are dedicated to changing the lives of their clients by making legal matters as straight forward as possible and securing early provision of support to really make a difference to the families they represent. You can contact them either by email at [email protected]  or by telephone on 0345 2410 154, or visit their website https://clmedilaw.co.uk/
Although we are grateful to receive support from a number of corporate sponsors, we do not endorse any specific organisation. If you are seeking legal advice, we encourage you to contact a number of experienced solicitors for an initial discussion before selecting a firm.