Our Sensory Drums are wooden crafted with patterned sides that allow children to combine different touches and sounds. There's a compartment, which includes a xylophone, a shaker and a range of different drum sticks.
They help children with different sensory needs and also allow them to have lots of fun! Here's what some of the families have told us;
Kerry, Maddison's mum
'The benefits for Maddison are fantastic. Not only is it visually stimulating, she is also learning to hold instruments in her hemiplegic hand. They are the right size and weight for her to try to hold for short periods. The drum is easy to move around and the craftsmanship is beautiful.
'Maddison is often found sitting with the drum, making sounds and singing. It has been of huge benefit to her.'
Faye, Luca's mum
'Luca loves his drum, thank you so much.
'Luca loves opening the drum to get all the instruments out, he likes to look and explore the drum, he especially loves it if I put sensory lights inside. He laughs and flaps his hands in excitement.'
Abi, Megan's mum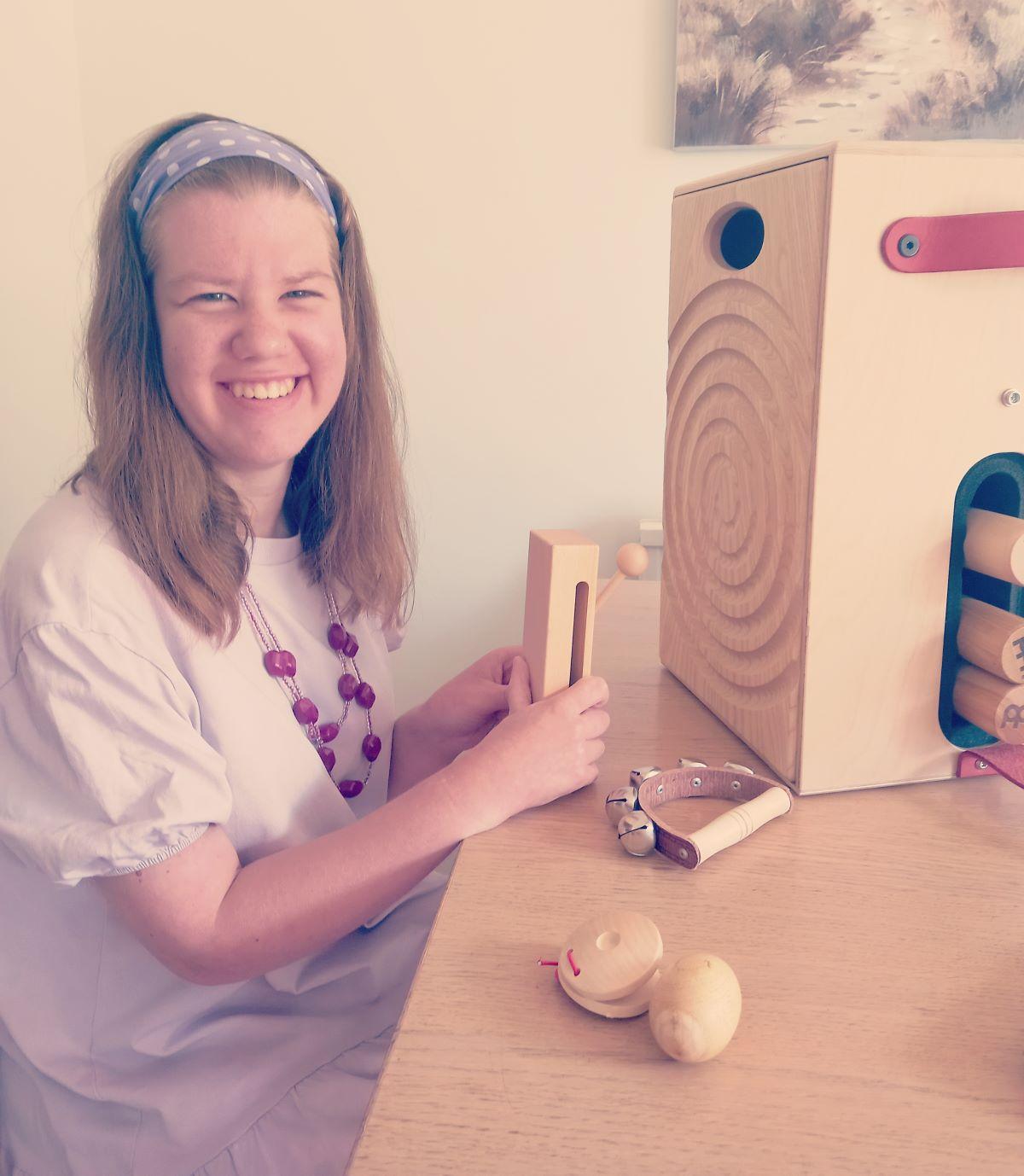 'Megan really loves the sensory drums she received from Cerebra. She has Hemiplegic cerebral palsy, so this drum set encourages the use of both hands and she can access the set herself without assistance. She plays the drums by themselves and sometimes uses it to accompany music she listens to. We like the way the accessories are stored inside too.
'Megan happily amusing herself with the drum kit is lovely to see and we are grateful that Cerebra kindly provided such a unique set.'
Angela, Lucas' mum
'Lucas doesn't have many play skills. This is something we are working on and hopefully the drums will help with his communication in the long run.
'Lucas' new favourite pastime is banging on the tambourine with the recorder out of his new Cerebra drum kit, he even takes it in the car with him when he goes anywhere. Thanks, Cerebra for Lucas' lovely gift.'
Kirstie, Fraser's mum
'Thank you very much for the lovely sensory drum, it is beautifully made. Fraser and Mirren love it and it is great seeing them play together. Fraser is a big fan of the wooden instruments and really responds to the vibration and physical feedback, especially when using the textured lid. He struggles to hold toys but the shaker, bells and beater are the perfect size for him. We can't wait to use the bells on Christmas Eve!'
Jane, T's mum
"Our son truly loves the drum set. This is an amazing well-built item which makes a great noise but he finds the level of noise manageable. It's all very smooth and so easy for him to touch (he has sensory avoidance). His favourite is the egg shakers and he'll also spend a while running his fingers across the swirls on the drum."