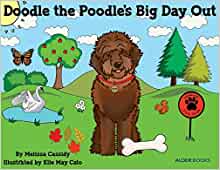 A colourful picture book that young children will enjoy. Doodle the Poodle goes out for a walk to his local park. He makes friends with lots of other dogs that have families very different to his own. Join Doodle in finding out all about them.
Written by a young author and blogger who does not let her disability hold her back. This is a great book for introducing the subject of diversity to young children.
Janet Pugh
Librarian, Cerebra
We have copies of this book available to borrow from our library.