Cerebra's Oxygems, designed and built by our Innovation Centre, have made a big difference to the lives of children all across the country.
For children who constantly need to have their oxygen cylinder, ventilator or food pump to hand, just going out for a simple walk with mum and dad can be a real struggle. That's why the Oxygem was created with the purpose of ensuring these children don't have to face barriers when wanting to spend precious time outdoors or have fun running round the house!
Our Innovation Centre recently decided to give the Oxygems a bit of a face-lift and throw some more fun into the mix by adding some wonderful graphics of children's' favourite superheroes and Disney characters. This was made possible by an amazingly generous donation from Mr and Mrs Gordon Coventry of Claire's Project. Their donation paid for a vinyl printer/plotter which we use to create beautiful artwork to decorate our products.
But that's not all… Rotacaster, who have provided the wheels for the Oxygems and lots of other Innovation Centre projects, thought they would get their creative juices flowing too! Their wheels give the Oxygems a fluid movement no matter what weight goes into them, but why not go one further and give them a fresh new look too?
Rotacaster designed some wonderfully coloured wheels to make the Oxygems even more eye-catching and also did this completely free of charge for us, which was incredibly kind.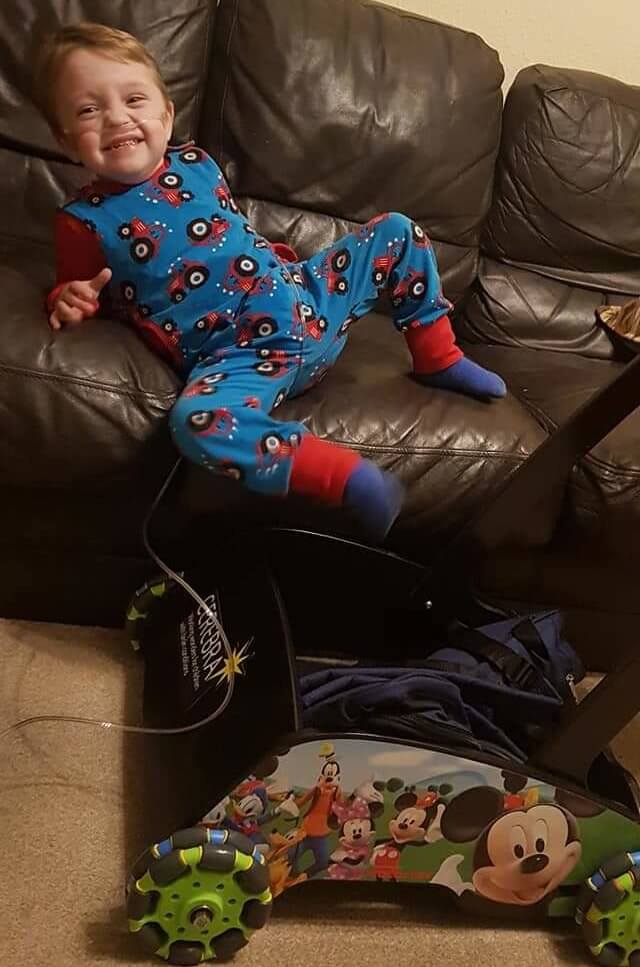 I think you'll agree, the upgraded Oxygems certainly look the part and the excitement was just too much for Reuben (pictured) who couldn't wait to take his for a spin!
Reuben's mum, Annmarie, told us, 'it's just amazing, if it wasn't for this, he wouldn't be able to walk around on his own with a little help. He's starting nursey after Christmas and then he'll be able to play with other kids outside. We can't thank you enough. It's also a massive help when I drop my other son at school. He has cerebral palsy and is in a wheelchair but now Reuben can push his Oxygem and I can push his big brother. It's become an amazing part of our day-to-day life.'
We're absolutely delighted that our Oxygems are finding new homes and Senior Product Designer, Ross Head adds, 'we are so lucky to be able to help our young clients in such a fun and innovative way. With the generous help from Rotacaster and Mr and Mrs Coventry, we are able make a personal and beautiful product for children, which gives them independence and makes them the envy of the playground for a change. We do all of this for free, please get in touch if we can help you.'
We're always on hand to listen to the challenges that children living with a brain condition and their families face. If you think you could benefit from one of our innovative designs, please contact us