Six-year-old Amelie is a bubbly and happy little girl. She loves playing outside and worships her little brother, Arthur. They really are inseparable at times.
It wasn't an easy start to life for Amelie and her parents, Lucy and Rob, though. From birth, Amelie was diagnosed with quadriplegia cerebral palsy, which was caused by a lack of oxygen to her brain. Things were so serious that in her first few weeks, Amelie received palliative care. Thankfully and remarkably, she pulled through.
Amelie faces challenges each day. Her condition has affected all her limbs and her core. She is also weaker on the right hand-side of her body. This doesn't stop her from being as active as possible though, and this is where our Innovation Centre has stepped in to help.
Building innovative, bespoke products to help children engage with the world around them and do the things they love
We've had the pleasure of getting to know Amelie and her family for a few years now, ever since she was just a toddler. Dad, Rob explains;
'We first got in touch with the Cerebra Innovation Centre around four years ago when Amelie's physiotherapist was helping us find something to assist her with her leg exercises. We were just amazed by the range of things they had created for children to help them with all kinds of activities.
'The team kept in touch and we were able to keep them updated with Amelie's progress. Then, earlier this year, we were looking at other ways to help build her strength through a fun activity and this led to the design and build of her very own skateboard!'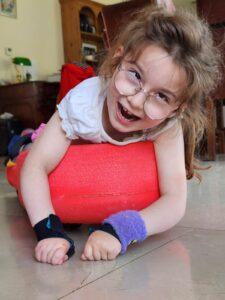 The skateboard helps Amelie to develop her upper body, both in terms of strength and dexterity. She lies on her front with a belt support fastened across her lower back and uses her arms to pull herself along. It's just like a paddleboard, but on land.
The design is adaptable and can be extended or shortened depending on the needs of Amelie as she grows. Rob adds;
'It's been great for building strength in her arms and improving her mobility. Not only that, but it puts a huge smile on her face. She absolutely loves it!'
The family has also let other children being supported by Amelie's physiotherapist to borrow the board to improve their mobility and have so much fun in the process!