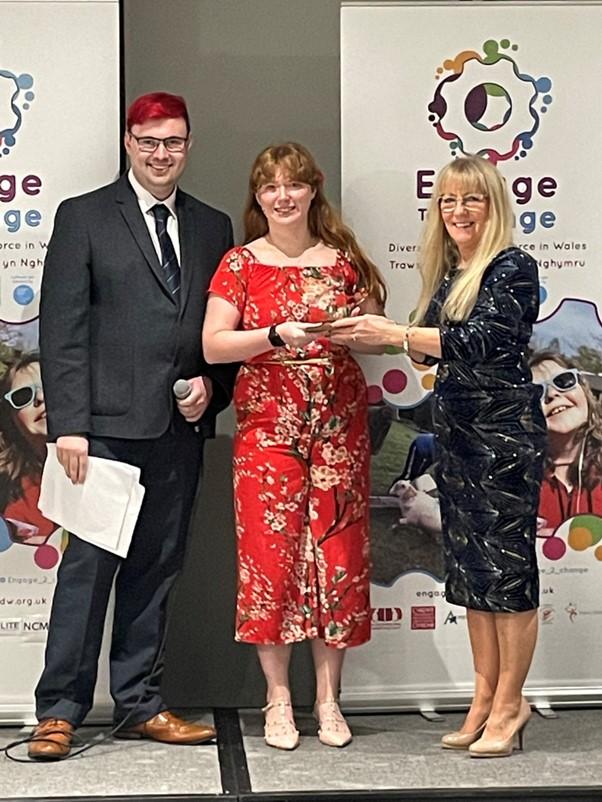 Ffion joined us as a Library Assistant through the Engage to Change Project. We are thrilled that Ffion's enthusiam, passion for development and hard work has been recognised by the Project.
Engage to Change supports young people aged 16-25 who have a learning difficulty, learning disability and/or autism to achieve their full potential. Ffion was awarded a Champion Award for her added contribution to the project through the video she contributed to about her experience on the supported apprenticeship and for attending a stakeholders' event to speaking about her experiences. Ffion's passion and enjoyment for her work really comes through and she has been a huge inspiration to other young people and employers alike. You can watch Ffion's video at the end of this article.
Ffion explained how she felt to win the award and what it means to her:
"I must admit the award for being Engage to Change Champion has come as a massive surprise to me. I was not aware that I was going to be awarded as I have never won a trophy in my life. On the eve of the party, I was a bit emotional thinking how proud of me my family who are no longer with me would have been and because I had the right support my hard work had paid off.
I felt overwhelmed when my name was called to receive an award. I am honoured that my fiancé got to witness something that means a lot to me. I would dedicate my award to my friends, family and the whole Cerebra team, since being with Cerebra I have really enjoyed my role as Library Assistant and I work with amazing colleagues. With this Engage to Change award for inspiring others has really boosted my self-belief.
I am so proud to be part of Team Cerebra and I'm honoured to promote the organisation through my video presentation as Cerebra is such a lovely organisation to be working with, it's like being part of a family".
Engage to Change Project Manager Angela Kenvyn told us: "Ffion is a lovely young woman who is enthusiastic and passionate about inspiring others and bringing about change. She has worked with us to share her journey to employment and to showcase what is possible by trying something new, having the right employer, and the right support. Her work to promote the project by making a film and presenting at events is much valued by project partners. Ffion thoroughly deserved to be given an Engage to Change Champion Award."
Jan Pugh, our Librarian and Ffion's manager said:"I was so pleased for Ffion that she won the award, she had no idea it was going to happen, she was so excited to let us know. We are so proud of her. She enjoys working here so much and I've been really impressed with how she has worked on her NVQ. It's great to have her here. The library is a very busy service and with her help we are keeping up with our loan requests".
You can watch Ffion's award-winning video here:
You can read more about Ffion here.