"Logan came to live with us when he was 2 years and 9 months old. He was diagnosed with autism and sensory processing disorder in October 2022. He's three now and loves Peppa Pig and Thomas the Tank Engine – his favourite toy is Grandpa Pig. He loves water play and swimming and sensory lights, but he doesn't like loud noises and is unsettled in new places.
He has had so much trauma in his little life and as he is non-verbal he is unable to tell us how he has been impacted. We have adapted our lives around Logan. We have learnt that routine is key for him and so having clear routines for him from meal times to bedtime and activity times really improves family life. We are also continuing to push with professionals to obtain the right support for Logan to help him in his new home.
When we adopted Logan it wasn't disclosed that, as part of his autism, he didn't sleep. This was a massive shock as we weren't prepared for the impact that lack of sleep had on him and on us. We didn't receive any support from our local authority or the adoption agency. After the stress of an extremely difficult, lengthy adoption process, both my partner and I were struggling to manage the lack of sleep.
We were made aware of Cerebra's Sleep Advice Service via our health visitor and after visiting the website I made contact to ask for support. I received a call back very quickly and had my first telephone consultation soon after.
Our Sleep Practitioner Carwyn was absolutely fantastic. The biggest support I received was to be heard. Carwyn really listened, not just to what we were struggling with, but to the journey of our little one coming to live with us and his background. I was given a safe space to talk about how I was feeling – this alone lifted a massive weight to be able to talk to someone without judgement.
Carwyn didn't just listen he acknowledged and showed compassion to our circumstances. He took understood everything I said and worked with me to implement changes to the bedtime routine we had in place. I took on-board several different points to work on and tweaked them to meet the needs of our little boy.
In addition to receiving help from the Sleep Service, I also joined the Library where I borrowed books to help with the areas we were having difficulties in. The toy library is also something I will be using in the future as I feel that this is an amazing service to offer.
I found the leaflets and guidance provided by Carwyn and the information on the Cerebra website to be invaluable. It's helped us to create the perfect bedtime routine from avoiding blue light, having quiet time to the lighting and sounds in our little boys bedroom.
We feel that we are now able to manage after receiving Cerebra's support and knowing we can always come back to Cerebra gives us peace of mind – we know that support is there when it is needed.
I would just like to thank Cerebra for offering their services as the help they have given and still offer is fantastic."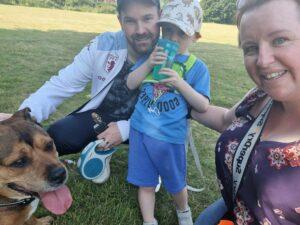 If your child has difficulty sleeping, there are lots of practical resources on our Sleep Advice Service page.