We would like to say a huge thanks to Nationwide and particularly their team at the Rotherham branch for their incredibly kind donation of £10,000.
Nationwide, as part of their Colleague Grant programme, were looking to support charities in areas which included innovation and helping people to thrive in their own environment and we knew we had just the project!
We were thrilled to find out that we had been successful and so were our Innovation Centre who design and build the innovative, bespoke products that help disabled children discover and engage with the world around them.
The Pod Chairs help to do just that. They are sensory stimulating and empower children to feel more grounded, balanced and safe.
These new Pod Chairs will empower even more children like Curtis
Curtis has Charge Syndrome which affects him in lots of different ways. It affects his development, meaning that he can't walk and talk and he also has many sensory issues. He is partially sighted and has a cochlea implant because he is partially deaf. He is unable to tell where his body is in space and because of this, he has balance issues.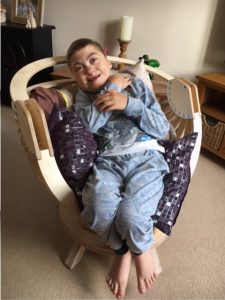 For a while, Mum, Louise had been looking for something to help Curtis to feel more grounded and she contacted our Innovation Centre after seeing a post on our Facebook page about the Pod Chairs.
Louise knew one would be perfect for her son!
The day the chair arrived, Curtis was absolutely over the moon with it! The pod now makes up an important part of his day. He can touch the floor and spin himself, which gives him some independence, but it also grounds him. The benefits really have been huge.
We have since received many more requests for a Pod Chair from families who have a child with similar conditions to Curtis. That's why this is such an important project.
James Hay, our Fundraising Manager adds;
We are over the moon and incredibly grateful to receive the support of Nationwide, particularly the team at the Rotherham branch. This donation of £10,000 will enable us to provide ten safe, sensory stimulating Pod Chairs to help even more children like Curtis.
What's so wonderful about these Pod Chairs is that they can be reused multiple times as families can return the chairs after use. We then do a safety check and update any parts before sending out to another family.
We're so grateful to Nationwide to be able to start work on this exciting project!